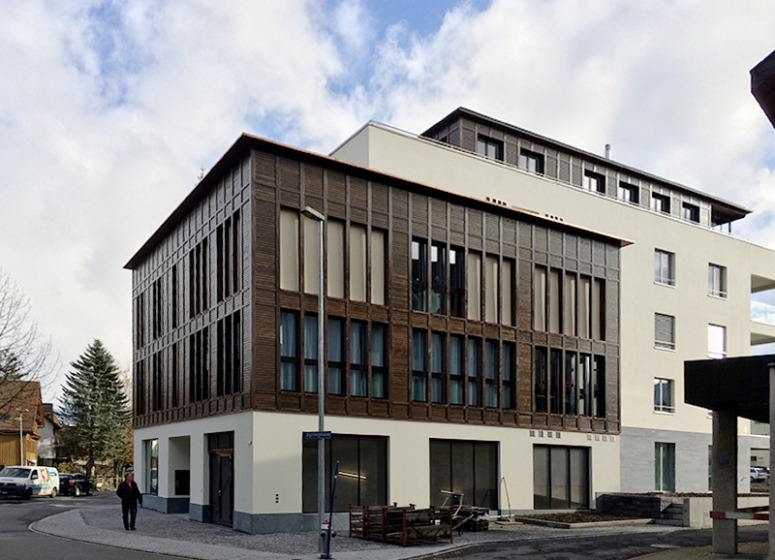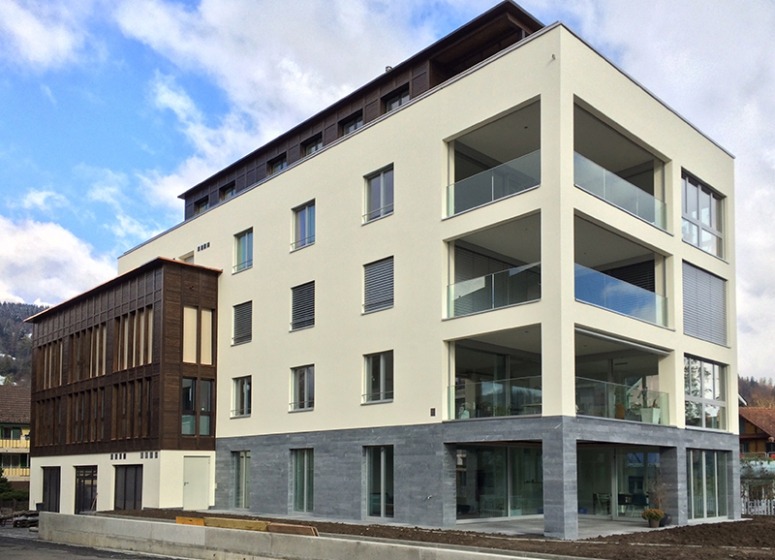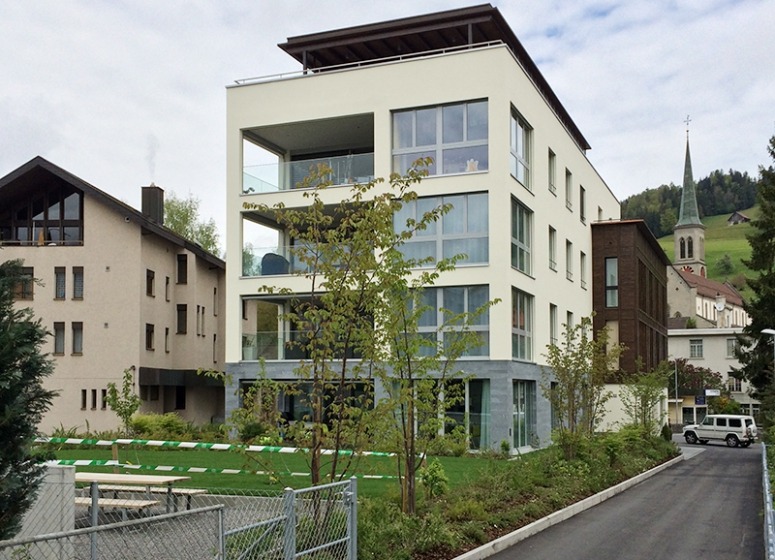 Construction of a multifamily residence with eight apartments and one retail unit.

2012-2013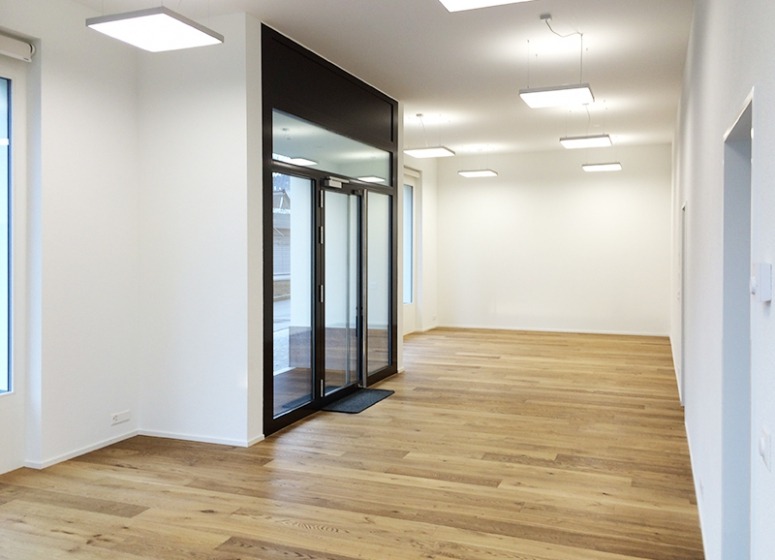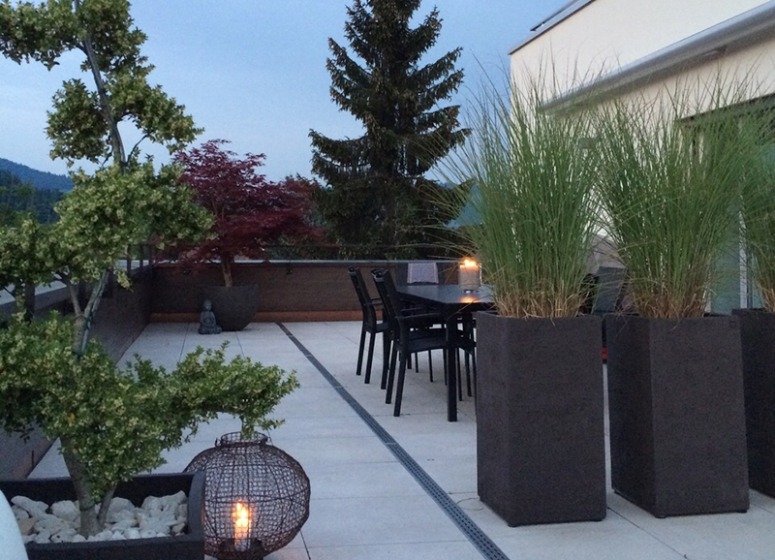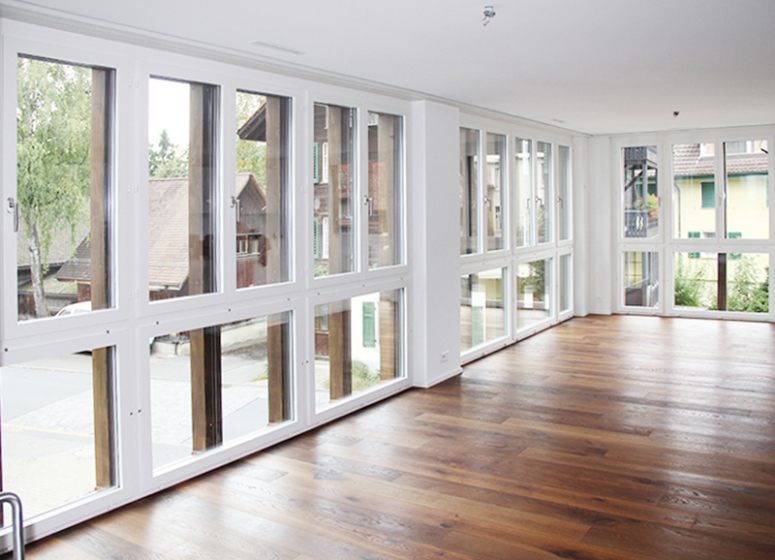 The building is located in core zone C, in which, especially south of the construction project, there are buildings that exhaust the measurement regulations of the building code. In addition, the parcel is located at the edge of the urban image protection zone, in which the buildings nearby usually consist of a base floor with two upper floors and an garret. The proven façade material wood manages to build a bridge between the old houses of the protected zone and the new buildings, in a modern setting.
The total volume consists of two cuboids pushed into each other, as well as an attic construction on the southern cuboid. The northern part comprises only 3 full storeys. The southern part has 4 full storeys plus one attic storey. There are no projecting oriels or balconies. The outside seating areas of the apartments are integrated into the basic volumes, as is the entrance and exit ramp of the parking hall.
From the main entrance on the ground floor, the tambour leads to the 3.4 meters high vestibule, from where you get to the staircase. The ground floor apartment is one metre higher than the main entrance. The living and sleeping areas of the apartments are clearly separated from each other, with almost all bedrooms facing the morning sun. The master bedrooms also have a directly accessible bathroom. Living and dining are separated by an inserted loggia, which is oriented towards the evening sun.
The facades of the northern part show a high base floor and two upper floors, which are closed by a canopy. The structure of the wooden façade on the upper floors is deliberately slightly dominated by the vertical elements in order to raise the appearance of the entire façade. The second reason for the relatively tight grid of the vertical wooden posts is the flexibility for the windowing of the different rooms. In the living rooms several windows are lined up, while
the bedrooms each have two adjacent windows. The bathrooms have only a single window.
The facades in the southern part are solidly built and have perforated windows at regular intervals. The ground floor is designed as a plinth floor using the same material as the splash water plinth in the northern part. The southern part is completed by the attic construction in wooden elements. The design and material of that facade surface is the same as for the upper floors of the northern part. The attic storey is set back from all facades.
The building is heated by a heat pump with ground probes. The same system can be reversed in summer to cool the apartments.